Colorno, January 02, 2023 –
With great attention to new technologies, Transfer Oil is entering the 2023 with an important innovation. In a short time, we will introduce an
innovative laser marking
on our hose products, adding further differentiating elements from our competitors.  
Laser technology, compared with the traditional ink-jet marking, will offer a much more permanent lay-line, almost impossible to be erased when exposed to chemicals, mechanical
frictions,
and some abrasion too, making
important traceability data
still visible on the hose branding even after intense use in the field.  
Furthermore, laser marking does not require ink,
solvents,
or any other chemical at all, making our production process – and therefore our hose products – even
more sustainable and environmentally friendly.
Also, the appearance of the hose as well as the overall
readability of the branding
, will be improved
because of
the vectorial design versus the old-fashioned dot-map technology of the inkjet. This new process does not affect the structure of the hose products nor its performance, therefore crimping specs will not be changed.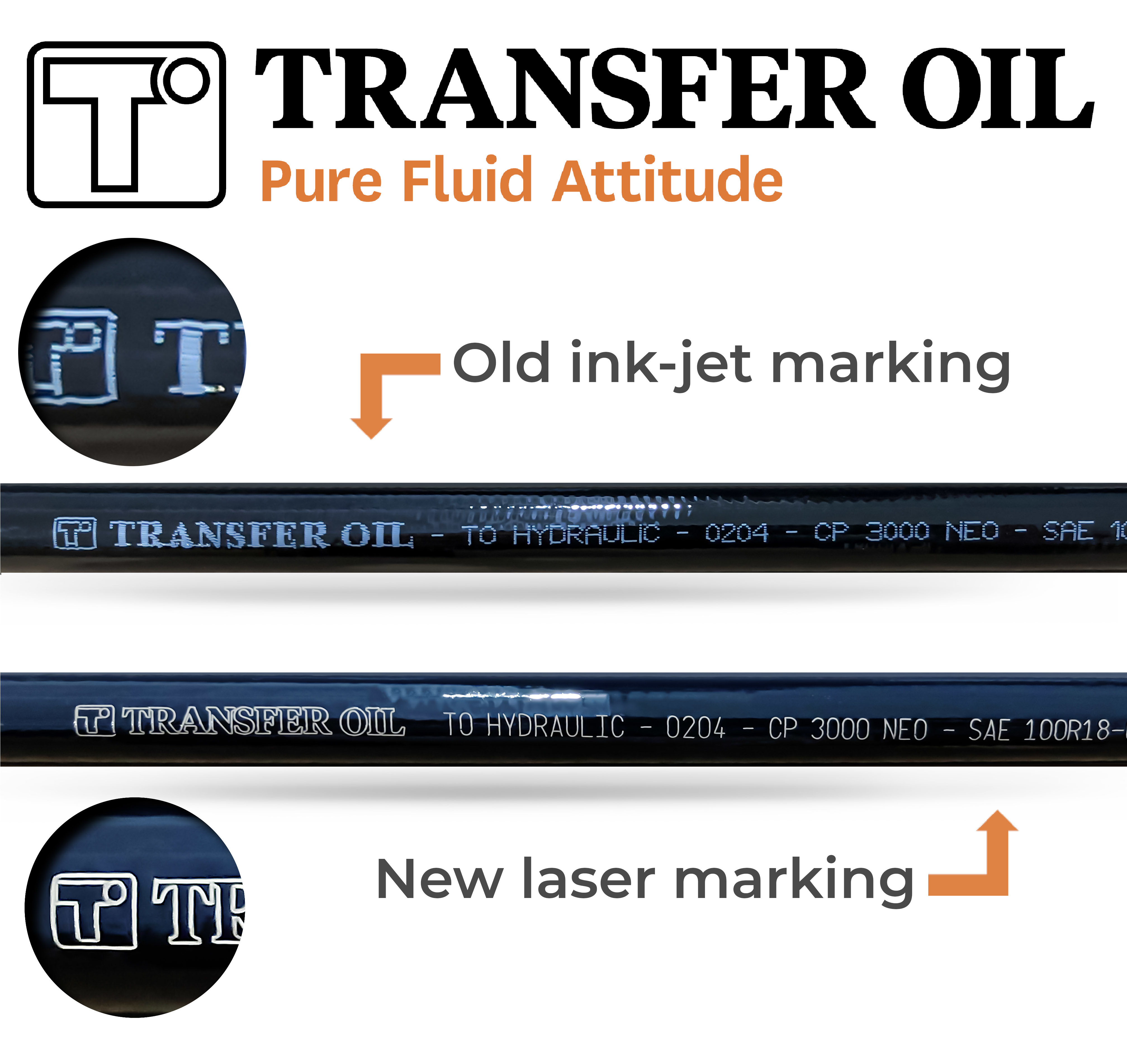 Transfer Oil will start to gradually introduce laser branded products – on
both standard and private branded
hoses – starting in the first quarter of 2023, depending on stock availability. This means that, for some months depending on our stock and market demand, deliveries will have
products made using both technologies.
During the second quarter 2023, we expect to increase the adoption of the laser marking technology on all our manufacturing lines, and therefore our customers will see the share of these products increasing in their deliveries, gradually phasing out ink-jet branded hoses.  
For the entire first of half of 2023, we expect to adopt the laser marking technology
exclusively on black cover hoses.
Therefore, non-black cover hoses – such as orange, red, blue, … – will continue to use the traditional black inkjet marking, until the laser marking process will become available also for these products.  
For further information our Sales Front Office is at your disposal:
sales.ita@transferoil.com