Customer service is one of the key components in our logistics and packaging division.
The vast amount of thermoplastic hoses, the large active customer base spread over five continents, as well as an enormous amount of raw materials, fittings, accessories handled, checked, stored, transformed and shipped everyday, makes logistics a strategic activity for Transfer Oil. We at Transfer Oil take all aspects of logistics seriously.
In house logistics, the ability of receiving, checking and storing considerable amount of raw materials - different kind of polymers, fibres and steel wire that will be transformed by our machines day in and day out, into top quality finished or semi-finished product. To perform all these activities and at the same time maintaining traceability of storage, quantity and characteristics of each component requires great organisation, methodology and procedures. At any moment in time, Transfer Oil is capable of determining the availability of a product or the progress of a component through production process.
With a click, customers can check at any moment stock availability for hoses, fittings and ferrules. Transfer Oil applies the same attention to outside logistics, as this allows optimisation of transport activities, an aspect that is appreciated by our customers.
Transfer Oil hoses can be customised and packed according to customers requisites, in coils of different size and lengths, or despatched on wooden reels when longer lengths is a must. Fittings, ferrules, accessories and hose assemblies are packaged in boxes and tagged with unmistakable identification no.
With reel packaging, Transfer Oil has the ability to ship long lengths safer, optimising volume being shipped vs. consignment quantity. When reels are not required, Transfer Oil provides corrugated cardboard packaging which thanks to features like sturdiness, versatility, light weight and total recyclability, provides adequate protection to bulk product.
Continuous research and improvements of our packaging formats lead us to the introduction of octagonal cardboard boxes aimed to optimise shipment of hose assemblies.
Pallets
Transfer Oil hoses and fittings are packed in stackable carton boxes, on EUR pallet (80 x 120) Some products, such as bulky hose reels, or bulky coils, may not fit and are therefore not shipped in these carton boxes.
Twin multiline
Most of our hoses are available also in twin version or multi-line version, also combined with different hose sizes or types. It is also possible to join hoses to electrical and optical cables.
Coils
Products packed in coils. Depending on hose size and weight, coils can be of various lengths. Upon special request is also possible to supply fixed length coils. Requests for fixed lengths, or any other length limitations, are subject to extra charge.
Stainless Hose Assembly
We can supply products as factory made assemblies with stainless steel fittings. For all applications requiring an increased resistance to fluid transport of aggressive substances and/or protection to corrosive environment.
Reel
When long lengths are required, or for hose assembly plants / workshops, or when coil sizes make handling operations difficult, Transfer Oil recommend hose reel packaging.
Hose Assembly
Hose assemblies made in TO's manufacturing plant are supplied following customer's needs and – on demand – also with imprinted ferrules containing generic or customer specific brand.
CUSTOMIZED HOSE ASSEMBLIES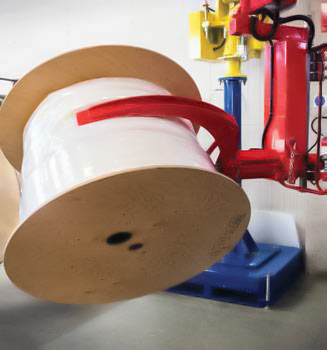 The rated working pressure of the application and the flow rate should always be used to determine the correct ID hose selection. Operation within the recommended rated working pressure, will maximize service life before replacement is required. When new, the hose will meet or exceed the minimum burst pressure stated in the hose data sheet. The temperature range specified refers to the recommended temperature limits of fluids being conveyed or ambient temperatures. Exceeding these limits can result in degradation of material compounds, reduced hose service life and premature hose failure.
When ordering hose assemblies, be sure the following information is included:
Quantity of assemblies required.
Hose Catalog part number and description.
First coupling thread and end style.
Second coupling thread and end style.
Overall length of assembly.
Hose assembly customization through accessories (protection jacket bend restrictor, hose arrestor, catch ring)